What's not to love about avocado toast? It's not only can it be used as a satiating breakfast or lunch. But it also makes for a perfect afternoon snack. On top of that, there is an endless amount of things that you can put on it. Let's look at some of the best avocado toast ideas out there.
1. Avocado-Egg Toast
This tasty, savory avocado toast idea is quick to make and super satiating. If you like eggs and red onions, you can whip this avocado toast idea together in no time.
Ingredients:
Large slice of chewy sourdough bread
1 halved avocado
Extra-virgin olive oil
Flaky salt and coarsely ground black pepper
Half a lemon or lime
Fried eggs
Thinly sliced red onions
Optional:
Thinly sliced Fresno or cherry chiles
Pepitas or sesame seeds
Basil, cilantro, mint or baby arugula (optional)
2. Sweet and Savory Toast
This toast idea is the perfect combination when you're craving something sweet and savory. Smashed avocado, orange slices, and a light drizzle of balsamic reduction–and a bit of thinly sliced fresh basil.
3. BLT Avocado Toast
This hearty avocado toast recipe is perfect for breakfast or lunch and breakfast. It's more or less a deconstructed BLT sandwich topped with a poached or fried egg. The peppery arugula and fresh basil balance out the richness.
4. Avocado, Pine Nuts & Apricots
Here's a super simple and quick toast idea. Smear your toast with mashed avocado half, top with peppery arugula lightly tossed in lemon juice, olive oil, sea salt, and pepper. Then add a layer of sliced apricots and sprinkle with buttery toasted pine nuts.
5. Avocado Toast Bagel
Have extra bagels in the pantry? Why not use them for your next avocado toast recipe? Mash 1/2 avocado. . Spread toast with mashed avocado and then add lime juice and salt. Top with scallions, red pepper flakes, and a drizzle of olive oil.
6. Crab Avocado Toast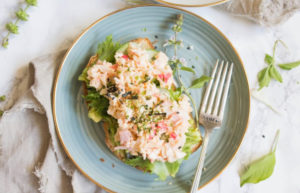 This is another easy avocado recipe for seafood lovers. Don't like crab? Simply swap it out for lobster, scallops, or shrimp. Mash 1/2 avocado. Add lime juice and salt and then mix crab meat with melted butter. Spread toast with mashed avocado and top it with crab meat and cilantro.
7. Balsamic Avocado Toast
Strawberries are perfect for this avocado toast if you want a bit of light sweetness. Layer together ripe avocado and sliced fresh strawberries. Then drizzle the whole toast with a little bit of balsamic vinegar. It's almost like a salad on a sandwich when you think of it!
8. Veggie Hummus Toast
Crusty bread topped with hummus, plain Greek yogurt, thinly shaved zucchini, carrots, squash, and a small drizzle of olive oil.
9. Italian Toast
For this toast recipe, regular hummus on toasted bread, topped with crumbled feta, olive oil, pomegranate ariels, and pepitas.
10. Smoked Salmon, Goat Cheese, and Capers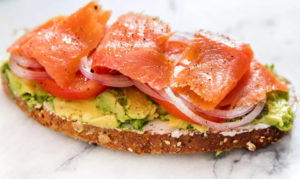 Avocado and smoked salmon are a natural pair and in this avocado recipe, they work wonderfully. Add tomatoes, capers, and thinly sliced red onion to the mix. Smear goat cheese on the bread for a little extra tang. Top with a slight squeeze of lemon juice and a little fresh black pepper to bring everything together.
11. Avocado Ricotta and Herbs
Here is an avocado toast recipe with an Artesian flare. Use crusty artisan bread toasted and top it with creamy avocado, herbed ricotta (ricotta with basil, spinach, chives, and red pepper flakes), and tomatoes. This will be one that you'll want to keep on that come on is it certain to have you coming back to make another and no time. And it only takes about 5 to 7 minutes to prepare.